2 years have passed since the last Argillà, Faenza is preparing to welcome from August 31st to September 2nd 2018 two hundred exhibitors from all over the world and many visitors who will fill Piazza del Popolo and the main arteries of the historical center: Corso Mazzini, Corso Baccarini and Viale Baccarini, from the MIC International Ceramics Museum to the main square.
As La Vecchia Faenza we will be present, as always, in Corso Mazzini, sector D – stand D08A. Download the map of Argillà 2018!
For months we have been preparing to present ourselves in our most authentic form: ceramists who follow the tradition of Faenza majolica. We will bring the most representative pieces of our production in our stand:
Raphaelesque ceramics, a decoration produced for many years by Laura Silvagni starting from original drawings and which is still the protagonist of new creations, with romantic scenes inspired by paintings of past centuries or landscapes in which to recognize glimpses of villages and countryside of Romagna.
Traditional Faience Majolica inspired by period pieces preserved in the MIC museum, decorated in Pavona (peahen), Palmetta Persiana (persian palmette) and Garofano (carnation). In the decoration of these ceramics we strictly observe the Faenza tradition.
Melograno (pomegranate) ceramics , chronologically the last born of traditional Faenza decorations: with its vaguely Art Nouveau features, it quickly became a symbol of Faenza and is only produced in our city.
Small wearable majolica: necklaces, earrings and other objects finely decorated and signed, all to collect.
We are waiting for you in the streets of Faenza for 3 days of partying with our artistic ceramics!

some "Raphael style" ceramics produced by La Vecchia Faenza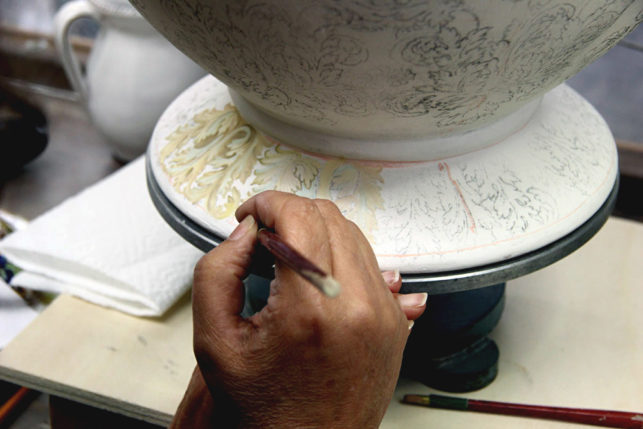 a decorator at work on a Raphaelesque piece