Ceramics as a gift of love, to express a feeling or celebrate a happy event such as an engagement or wedding, are a tradition that has its roots in the Renaissance, when it became customary at the beginning of courtship to give the woman a nice plate or a bowl depicting a female figure and one or more words in a cartouche.
The women represented were recurring figures that alluded to female beauty, while the writings reported words such as "bella" (beautiful), "gentile" (kind) or "diva" as a sign of admiration and expression of the love aroused. The objects could also depict hands that clasp, birds with intertwined necks and pierced hearts as well as female portraits, and mottos praising love.
The love pottery of La Vecchia Faenza
Our production of love pottery is born in the wake of tradition and integrates the typical figures of the ceramics of the past with decorative motifs of the majolica of Faenza.
Amor Regnat
This plate depicts a couple of lovers in the center joined by a scroll bearing the words "Amor Regnat". Around the central scene the decoration with the Renaissance motif "a Penna di Pavone" (peacock feather).
Intertwined Astorre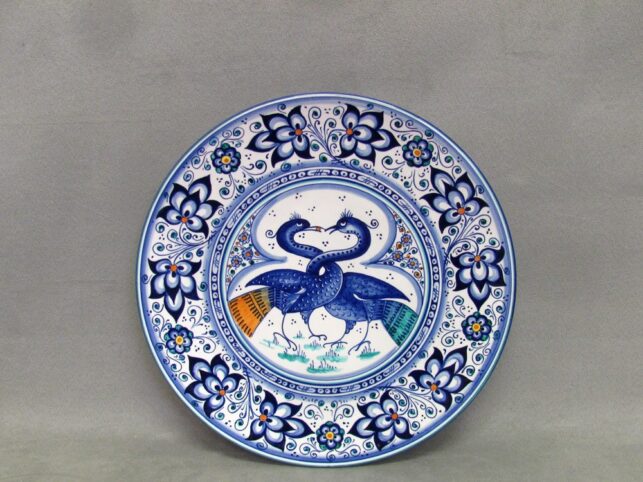 This plate, decorated with a Persian Palmette motif, features two astorre (legendary birds) in the center with a long intertwined neck. The scene, reinterpreted by a 15th century vase kept at the Victoria and Albert Museum in London, has a strong symbolic value: the intertwining formed by animals represents the flow of divine energy and life, while the berry carried in the beak is a wish for fertility and prosperity.
Fides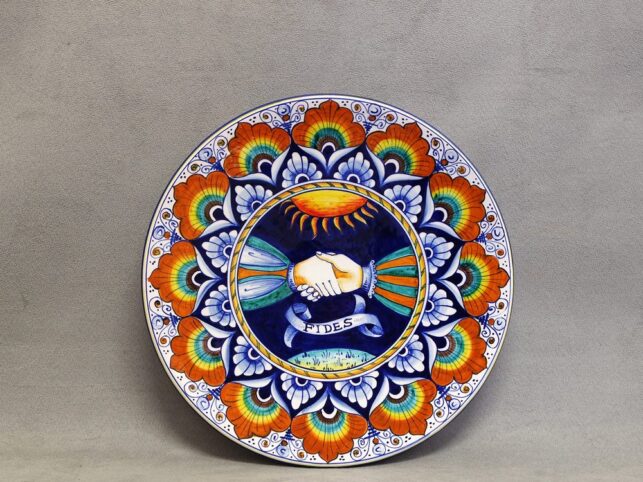 Among the most classic decorations of the "love plates" the representation of faith, that is the pact of love between the engaged couple, symbolized by two hands joined in a squeeze and the word "Fides" in a scroll. Here, too, the central scene is accompanied by the peacock's eye Renaissance decoration, simply called Pavona (peahen).
From gifts of love to popular wedding gifts
Today it is less common that these plates, symbol of love, are given by the boyfriend to the beloved, but they have become popular wedding gifts or to celebrate an important anniversary such as the silver and gold wedding.
Look at them all: they are available on our e-commerce CeramicaFaenza.it and in the La Vecchia Faenza shop, in via Sant'Ippolito 23 / A, Faenza (RA).