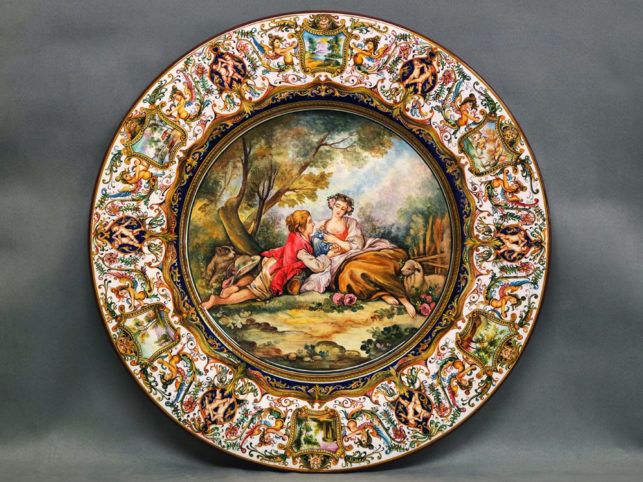 We have made this large ornamental plate in majolica with a diameter of 62 cm with a central scene inspired by the "Pastoral Subject" by Francois Boucher (18th century). The border is richly decorated in Raphaeleque style with inserts of hilly and fluvial landscapes alternating with dancing cherubs on a blue background.
The dish presents a vast sample of the decorative richness of the Raphaeleque, with garlands, leaves, cherubs and winged figures from the man's bust.
It is a unique and signed piece of particular value, where the decoration of ceramics is real painting. Its realization required a great decorative effort; both the central scene and the Raphaelesque figures are painted with a brush tip with great attention and precision. We are certain that you will spend hours observing this dish before having grasped all the details of its meticulous decorations.
The scene inspired by Boucher's "Pastoral Subject"
Francois Boucher (1703-1770) became famous as a talented artist, ideally corresponding to the spirit of his time. He often worked on mythological plots, but he painted them in a pastoral vein, partly decorative, showing rare ingenuity. Boucher paid tribute to the genre scenes, telling, albeit with characters in sumptuous clothes, the simplicity of life in contact with nature.
The "Pastoral Subject" painting is a typical example of his work. Bright, as if the paints formed the basis of a pictorial work, it uses all the colors of the spectrum, without exception, while the general pink-gold undertone creates a feeling of warmth and intimacy. The concept of pastoral care, derived from the word pastor, is an ode to the countryside and to conflict-free coexistence against the background of nature. The canvas depicts a couple in love: a beautiful girl with a lush yellow skirt and her lover, dressed in beige trousers and a bright scarlet vest. Both characters are barefoot; flowers are entwined in the girl's hair and roses are scattered on the lawn. It is a hymn to love and to sweet living.