On 17 January the liturgical feast of Anthony the Great is celebrated, protector of animals and workers with fire (bakers, firefighters, potters …). On the occasion of the feast of Saint Anthony, it is traditional to bless the animals, the stables and the ovens, entrusting them to the saint.
Sant'Antonio è venerato in tutta Italia; in Romagna la devozione è diffusa specialmente nelle zone rurali, dove è facile trovare targhe, lunette o formelle in ceramica affisse all'esterno di stalle e ricoveri per gli animali, sulle cucce degli animali domestici o sopra la porta delle case, a protezione del focolare domestico.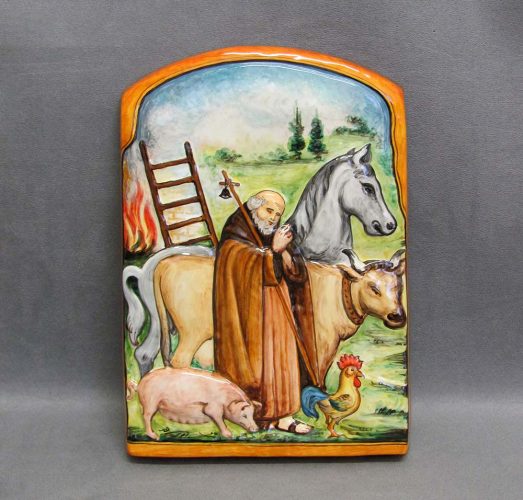 La Vecchia Faenza realizza da sempre formelle e targhe in ceramica con la figura di Sant'Antonio Abate rappresentato secondo l'iconografia tradizionale. Si tratta di manufatti pensati per l'affissione anche in esterni, sono infatti resistenti al sole e alle intemperie.
We make plaques on request with Saints and Madonnas with Child
Every country and every trade has its protector, to whom the faithful turn their prayers. Over the years we have created the most varied plates on request starting from images of works of the past provided by the customer or on our proposal.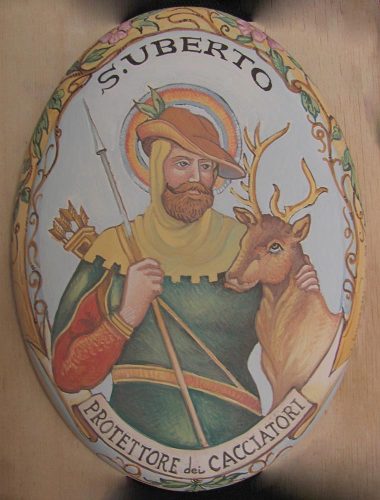 Once we have identified the reference image, we draw a preview sketch and, when approved, we proceed with the creation of the ceramic and its decoration.
Madonnas with Child and Marian reproductions in artistic ceramic
Below you can see some examples of Madonnas with Child and images of the Virgin object of devotion in our territory, but also reproductions of famous works, such as "Mary who unties knots" inspired by the canvas created around 1700 by the German painter Johann Georg Melchior Schmidtner .