We have reopened our shops in via Sant'Ippolito 23 / A and Corso Garibaldi 12 / A to the public! We are waiting for you in sanitized rooms equipped with a mask and with sanitizing gel available to customers. You will find many gift ideas and objects hand decorated in traditional Faenza styles, such as ornamental plates, wall clock, desk ceramics and more.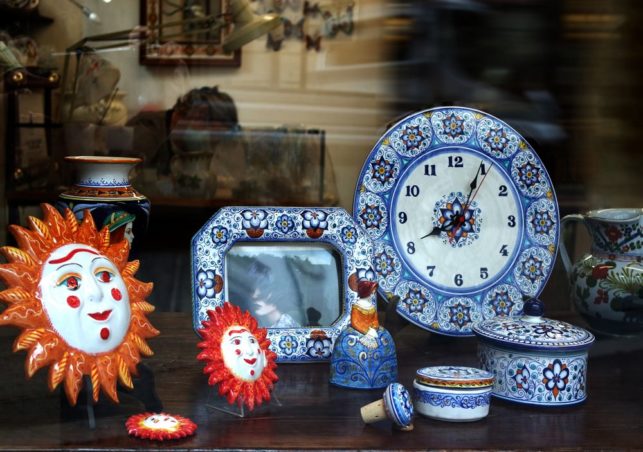 In this period, Buongiorno Ceramica! was to be held, the Italian ceramic festival which took place digitally this year. One of the most heartfelt moments of the event was the Aperitif of the ceramist in Piazza della Molinella: since it was not possible to toast together, and waiting to be able to gather again and do cin cin with the glasses decorated by Faenza ceramists and the wines of our hills, we thought of re-proposing the Ceramist's Aperitif in a new way.
From Monday 18 May you can buy a bottle of wine and two ceramic glasses at the shop for the price of 25 €, for a toast in honor of our craftsmanship and the wines of our hills! We offer you the wines of the Agriturismo Campanacci: the Sangiovese "Rovesco" 2018 or the Spumante Brut.
The hand-decorated glasses and Campanacci wines are available in the La Vecchia Faenza shop, in via Sant'Ippolito 23 / A – Faenza, and in the Laura Silvagni shop, Corso Garibaldi 12 / A – Faenza,
For information call +39 0546.26907 – +39 0546.26357 or contact us by filling out the form.