The ones you see in the photos below are some of the pieces we produce since the 80s, of different sizes and with some variations, inspired by a fifteenth-century vase probably made in Faenza and kept at the Victoria and Albert Museum in London.
The idea of ​​re-elaborating the decoration of such an ancient and important ceramics came to us during a visit to the famous London museum in the late '70s: we had just started the activity and we were literally enchanted in front of a room full of Renaissance ceramics (at that time the museum spaces were not rationalized like today: the display density was greater, there were a great quantity of pieces in a single room and the glance was of great impact). We were not equipped with a camera, so we pinned on a notepad the decorations of some pieces, among which the vase decorated with braided neck animals that we interpreted as a symbol of marriage, love and, in general, of union; it was probably commissioned to give a couple of newlyweds a present.
We have thus created plates and vases in majolica variously decorated: in the picture you can see a vase painted similarly to the original and a plate that instead brings the birds with long braided neck surrounded by decorations in Pavona and Persian Palmette styles.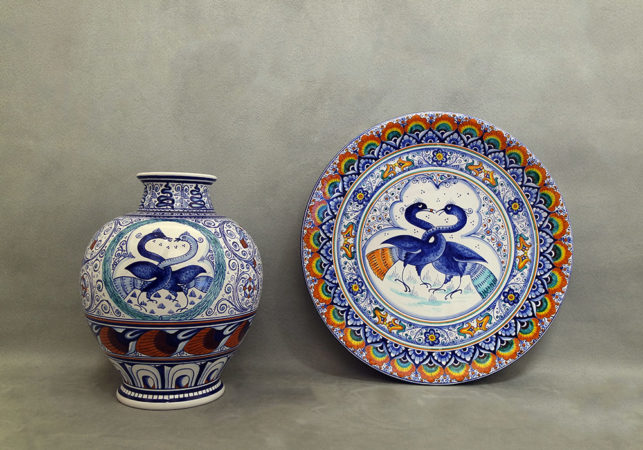 We have chosen to accompany the design of the birds – we call them "astorre", a characteristic figure of Faenza majolica – with Pavona (peahen) style not only for the affinity of the colors, but also because the symbolism of Pavona is very similar to that of astorre intertwined: the interweaving of animals represent the flow of divine energy in the forms, growth, continuity, life, just like the peacock's tail. This symbolism makes these pieces ideal gifts for happy recurrences such as weddings and anniversaries.
The original vase kept at the Victoria and Albert Museum
Only recently, thanks to the internet, we managed to trace the vase kept at the Victoria and Albert Museum and we could also admire the back, as we had not seen it at the museum, discovering that there is a handshake with the inscription FIDESONIA which stands for fides omnia (in our version the writing becomes fides omia with the n that remains hidden in the cartouche).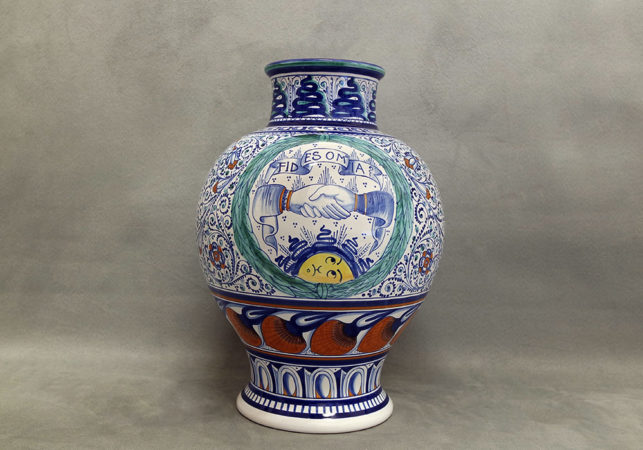 Order ceramics with this decoration, even customized!
It is possible to order a piece like this, of the desired size, requiring the personalization of the writing with, for example, a person's name. In the same way plates of various sizes are available with different decorations: the 41.5 cm plate is on sale in our e-commerce, it is possible to order customized variations by contacting us.