"The Eternal and the time between Michelangelo and Caravaggio" is the new exhibition of the San Domenico Museums in Forlì to be held from 10 February to 17 June 2018 in the convent church of San Giacomo Apostolo, freshly restored. The Cinquecento, a century that saw the dawn of the Renaissance and the appearance of a new current, Mannerism, as well as Michelangelo and Caravaggio, will be Rahpael, Parmigianino, Vasari and many others (the list is very long!).
After having filled your eyes with the wonderful works of these artists of the sixteenth century, we invite you to rediscover the same atmosphere by visiting our exhibition of artistic ceramics. The bond between the ceramists and the painters was solid from the beginning, as demonstrated by the works of the great Xanto Avelli (1486-1542), whose ceramics bear the marks of masters of the period such as Raphael, Mantegna and Parmigianino.
We at La Vecchia Faenza, like Xanto Avelli, also have our reference painters who are a source of continuous inspiration. As shown in the painting at the center of this dish, taken from the "Boy bitten by a lizard" by Caravaggio.
Even the still life at the center of the following bowl is very Caravaggesque, although it is not taken from a specific work.
As well as the fruit composition in this ceramic framework is inspired by the famous baskets of Caravaggio.
Among the protagonists of the San Domenico Museums exhibition there is one in particular that has made us and is still a model: Raffaello Sanzio. The frescoes of the Vatican Logos by Raphael have been decisive for the ceramics of Faenza to the point that there is a decorative style dedicated to him. In the picture a specimen of a large Raffaellesco dish (75 cm in diameter):
This composition sees three elements always painted in Raphaelesque style: the plate with the figure of a woman at the center is particularly significant.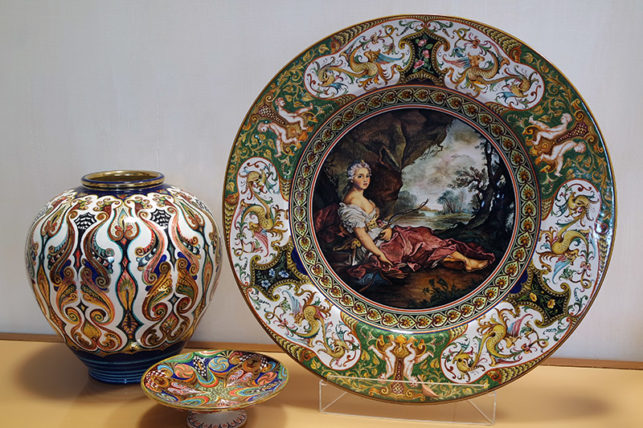 Finally, a detail of the Raphaelesque decor: two cupids dancing within a garlanded cameo, around imaginary animals with the body made of leaves and all enclosed in medallions.
Free guided tours to the traditional ceramic exhibition and to the workshop
Find these and other pieces in our shop in via Sant'Ippolito 23 / a, Faenza, just fifteen minutes drive from Forlì – by train it takes even less. We are close to the bus and train station, there is ample parking for cars and buses around the shop, as well as a small free indoor parking.
Book a visit to our large exhibition of artistic ceramics and to the workshop where we decorate them by hand, it is free for individuals and groups!