St. Anthony the Abbot is considered the founder of Christian monasticism and the first of the abbots: born in Qumans (Egypt) in 251, lived over one hundred years, until 17 January 356; he is remembered by the Catholic and Lutheran Churches on January 17th. Not to be confused with St. Anthony of Padua, a Franciscan friar of Portuguese origin who lived at the turn of the 13th century and who is celebrated on 13 June.
Anthony the Great is the patron saint of butchers and salami makers, farmers and breeders; he is also the protector of animals and workers with fire, therefore of bakers, firefighters and also potters. Considered a powerful thaumaturge and healer, he is invoked against herpes zoster, commonly known as Saint Anthony's fire.
The cult of Anthony the Great is deeply rooted in Italy and Romagna is no exception: on the occasion of the feast of Anthony the Abbot it is traditional to bless the animals, stables and ovens, entrusting them to the saint.
Lunettes, plaques and panels of Anthony the Great
In the countryside, in blocks of flats and outside stables and agricultural infrastructures, there are often plaques, lunettes or ceramic tiles depicting Saint Anthony the Abbot, affixed to protect the domestic hearth, animals and work in the fields.
La Vecchia Faenza has always made ceramic tiles and plaques with the figure of Anthony the Great represented according to traditional iconography. Among the identifying elements the monk's habit, the tau-shaped stick (T-cross) with the hanging bell, the fire, the presence of the piglet and other farm and domestic animals, the book of the Holy Scriptures in hand and open .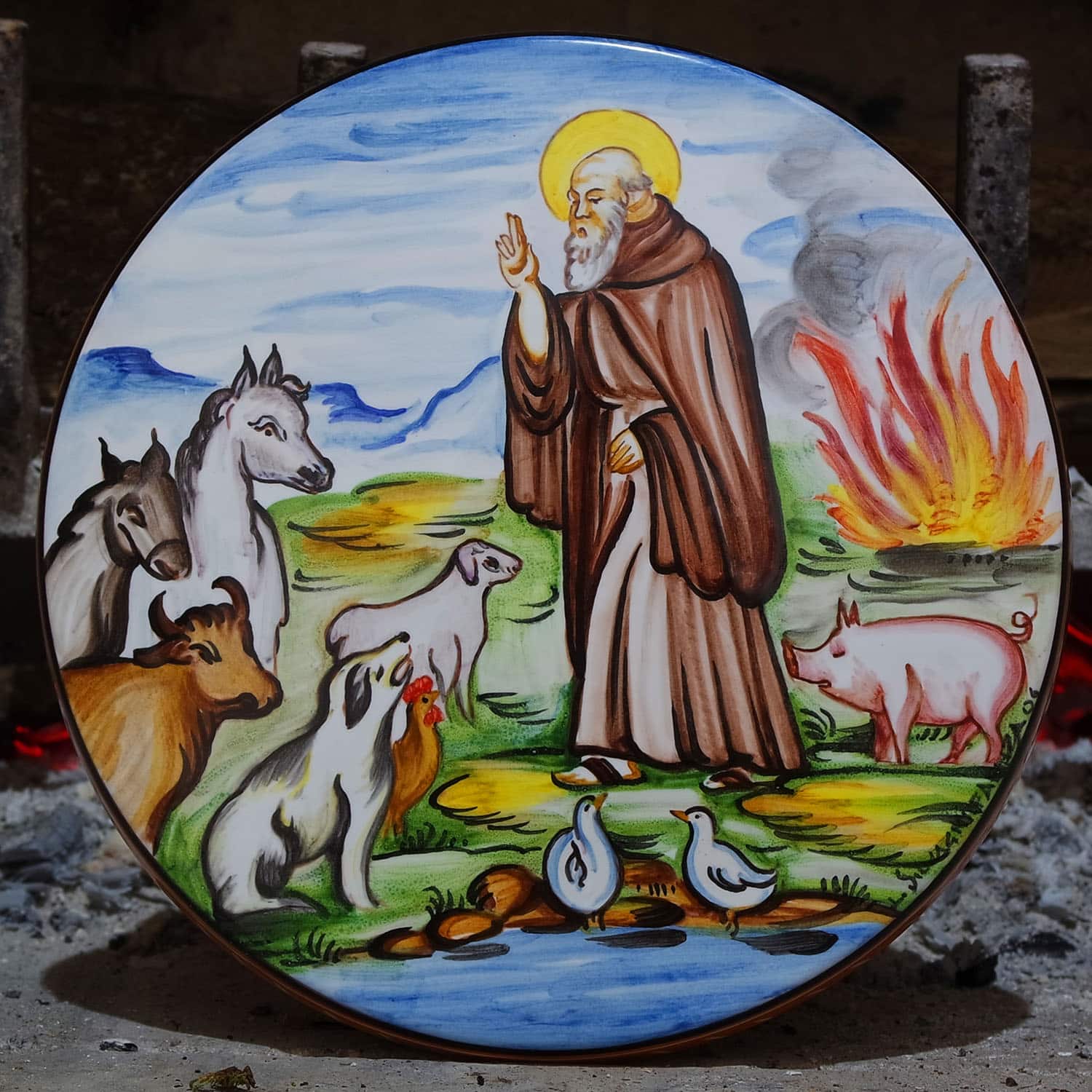 The ceramics with Saint Anthony are ready and suitable for posting even outdoors, as they are resistant to the sun and bad weather.
For more information, visit the section dedicated to saints in our ecommerce or contact us on +39 0546 26907 or by writing to info@lavecchiafaenza.it.